Stillorgan Dublin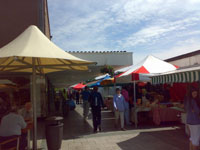 Stillorgan serves as an entertainment and shopping hub for many residential areas in South County Dublin, such as Foxrock and Rathfarnham. While it has been eclipsed by the neighbouring, flashier Dundrum Village shopping and entertainment complex, Stillorgan remains popular with Southsiders thanks to its strategic location close to the coast and the N11 motorway - The main connection between Dublin and County Wicklow. Stillorgan is also very convenient for Dublin's largest university, University College Dublin (UCD), which makes the area popular with students. Take the N11 towards Dublin city centre and the UCD campus is only a few bus stops away from Stillorgan.

History Of Stillorgan
The history of Stillorgan is in many ways typical for the suburbs on Dublin's Southside. A rural area with a few respectable but not spectacular country houses up to the 18th century, its population grew with the arrival of the railway in the mid-19th century. The town boomed and became home to an influential middle class fleeing the city. The successful society portrait painter William Orpen was born here in 1878. The railway closed in the late 1950s and Stillorgan re-invented itself in the 1960s as a commuter town servicing Dublin's increasing need for office workers. Stillorgan can lay claim to have the first purpose-built shopping centre ever to be opened in Ireland. The Stillorgan Shopping Centre opened its doors in 1966. Unfortunately, the construction of the shopping centre and the neighbouring bowling alley and leisure complex Leisureplex wiped out much of Stillorgan's historic town centre.
Stillorgan Today
The face of Stillorgan today is dominated by shops and car parks around the main thoroughfares and quiet residential streets just metres away from the hustle and bustle of the shoppers, cinema-goers and groups of bored teenagers. Apart from the Stillorgan Shopping centre and a dozen or so individual outlets, the town features the multi-screen Ormonde cinema, one of only a handful of active cinema screens in South County Dublin, a swimming pool, a handful of restaurants and two large pubs. The proximity of the UCD campus means there is a large number of students living around here in house shares and lodgings (so-called 'digs') but, surprisingly, Stillorgan has got no studentsy flair at all. They probably prefer to hang out in town instead.
Gaelic Football In Stillorgan
Unusual for South County Dublin, Stillorgan is a bit of a hot spot for Gaelic Football. It's an Irish game that combines elements of football and rugby. You can kick, carry or throw a round leather ball the size of a football and the goal looks like a soccer goal crammed inbetween rugby posts. There are points for scoring a goal or you can, for fewer points, kick the ball over the bar but between the posts. Gaelic Football is typically more popular on Dublin's Northside or in the country. Stillorgan's team, the Kilmacud Crokes, bucks the trend and has won six Dublin Senior Football Championships, three Leinster Senior Football Championships and two All Ireland trophies since 1971. The Crokes' headquarters are located at Glenalbyn, opposite the Stillorgan shopping centre.
Nightlife In Stillorgan
A large part of Stillorgan's attraction for people in the area are its two pubs, Bolands and The Mill. Both are typical suburban Dublin pubs, which means they are big, cavernous places that can hold a couple of hundred punters and there is parking for nearly all of them. They are just big barns, really, but suburbanites don't mind the lack of atmosphere because they arrive in groups and provide their own entertainment. Once the place is full of chat, both pubs can be good fun, but if you arrive too early it can be a pretty miserable experience. Stillorgan has a number of cafes and fast food outlets including a decent chipper, all located along the main drag. Popular eateries are Stillorgan's two Chinese restaurants, China Sichuan and Pings, and the modern European styled Stillorgan Orchard down the hill from Bolands.
Getting To Stillorgan
Stillorgan lies on one of Ireland's busiest bus routes between Dun Laoghaire and Dublin which takes in most of South County Dublin's commuter towns. The 46A bus whisks you past UCD and brings you right into the city centre. There is a stop on the Green Luas tram line that services Stillorgan's Southern fringes, bordering on Sandyford. The Luas stop is convenient for many of Stillorgan's residential estates, but it's a good 15 minute uphill climb if you want to take the tram after a visit to the shops or other amenities.