County Dublin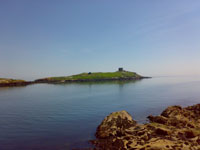 County Dublin is much larger than the city of Dublin itself and stretches from the coastal town of Balbriggan in the North to Shankill in the South. Dublin is the third smallest County in Ireland and shares borders with Meath, Kildare and Wicklow. Even though half of the County's area is located to the North of the city, the term 'County Dublin' is most commonly used by Dubliners to describe the commuter towns and coastal villages on the Southside. A more precise term would be 'South County Dublin', but you will find both used to describe the lush, generally wealthy 'burbs in the South.
Dublin County Councils
County Dublin is split into four administrative councils, Dublin City council, Fingal to the North, the confusingly named South Dublin to the West and Dun Laoghaire Rathdown to the South. Fingal accounts for almost half of the County's 920 square kilometres but only 20% of the population. Nearly half of the County's population lives in Dublin City.
South County Dublin
County Dublin is home to many of Ireland's rich and famous. And even though Malahide in the North is every bit as expensive and exclusive as Dalkey in the South, it is South County Dublin with its string of picturesque coastal villages that is synonymous with the Dolce Vita in Ireland. Even without the flash cars and imposing gates you know you've come somewhere special. The landscape takes on a Mediterranean, somehow Italian atmosphere once you leave Dun Laoghaire and head South as Dublin Bay transforms from grey tidal mud flats to soaring cliffs and turquoise waters studded with palms and pine trees. Moving from Glasthule over Sandycove to Dalkey you will swear you've left Dublin and entered a different country.
The 40 Foot
Take the DART to Sandycove/Glasthule station and walk from Scotsman's Bay to Sandycove Harbour, continue up the hill and you will find the 40 Foot bathing place. Hardy Dubliners com here all year round to swim in the Irish sea. The concrete wind shelters of the 40 Foot are perched on an impressive rock outcrop reaching into the bay and concrete steps lead you right into the crashing waves of the Irish Sea. Swimmers would traditionally go in naked and the bathing place was open for men only. A lot has changed in the last ten years or so and swimming trunks or wetsuits are now the norm. Follow the road that curves away from the 40 Foot, continue up the hill and you will see a 19th century fortified tower on your right. It is one of a string of Martello Towers dotted along Dublin's coastline.
The Martello Tower
The string of Martello Towers stretches along most of County Dublin's shoreline, from Malahide in the North to Dalkey in the South. The towers were part of a coastal early warning and defence system around Dublin Bay that was supposed to deter Napoleon's fleet. The Martello Tower in Sandycove Harbour houses a fine little museum dedicated to Irish author James Joyce.
Vico Road
Drive up Vico Road in Dalkey for some of the most stunning views to be had in Dublin, from Dalkey Island over Killiney Bay to the Wicklow Mountains. For maximum effect, come here in a convertible or on a motorbike. If you are travelling by public transport, take the DART local railway service, get off at Killiney station and walk back up Vico Road towards Dalkey.
From Vico Road To Dalkey
At the end of Vico Road turn right into Sorrento Terrace and then left into Coliemore Road which follows the coast and brings you into the Dalkey village. Reward yourself with a pint in Dalkey village before hopping back on the DART into town. Please note that this walk will involve some steep climbs. Good walking shoes are recommended.
Fishing In County Dublin

Sea Angling is one of Dublin's democratic sports. All ages are into it, from kids to pensioners, and you meet people with all sorts of backgrounds at the popular fishing spots. Some of the most popular spots are spread over South County Dublin with its rocky shoreline and crystal clear waters. Good fishing spots are generally marked by the local council with brown and white sign posts. Just ask in a local shop or pub for the nearest fishing spot or follow the signs from the main road. Mackerel fishing in late summer is a typical Dublin pastime. You do not need a license for sea angling in Ireland and the only expense you will incur is for the rod, line and lure. Please note, that a license is required if you intend to fish for salmon or sea trout.
Boat Trips Along The County Dublin Coast
If you want to head out onto the water, have a look at South County Dublin's coast from the sea and maybe throw in a bit of sea angling, then head out to Bullock Harbour. The tiny fishing harbour is located halfway between Dalkey and Glasthule. You can walk here from either DART station. Car parking is available but fairly limited. During the Summer there are usually boats for hire here, weather permitting.
Boat hire will cost €20-€30 per hour. For more information, call +353 (0)1 280 6517 or 280 0915 for boat rental in Bullock Harbour. Please note, boats are very popular, so it is advisable to call early.
There is another small harbour in Dalkey, Coliemore Harbour. Tiny as it looks today, it used to be Dublin's main port in the Middle Ages thanks to Dalkey charging lower duties than Dublin City. Phone +353 (0)1 283 4298 for information on boat hire at Coliemore Harbour.
Getting Around County Dublin
The DART local railway service is the most convenient way to travel in South County Dublin. The DART stops at all coastal villages between Dun Laoghaire and Bray. The journey from Dalkey to Bray is particularly impressive as the DART tracks have been carved out from the cliff face towering over the Irish Sea. Bus routes 59 and 59A connect Glasthule, Sandycove, Dalkey and Killiney with the city centre.