Welcome To Dublin – Céad míle fáilte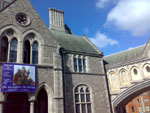 Welcome to Dublin, the capital of Ireland. This charming town with its history dating back to Viking times bubbles with creativity, culture and craic – The Irish for having a good time. Dublin is one of Europe's most popular city break destinations. Whether you come for business, the city's rich cultural heritage, the shopping, the restaurants or the famous Dublin nightlife, you are guaranteed a 'céad míle fáilte' or a 'thousand welcomes' in Irish.
Dublin.info offers you a guide to Dublin restaurants, shopping and pubs as well as useful facts about Dublin's main visitor attractions – All by experienced writers who live in Dublin and know the city inside out. Here you will find information on flights and travel to Dublin, reviews of leading Dublin hotels and budget accommodation as well as a convenient online hotel booking service. Find out more about Dublin before you go: From Dublin bus passes to tickets for Dublin's most popular tourist attractions, read about your options and prices and book online.
What sets us apart is the local colour and detail of our Dublin listings. Small things like saying 'thank you' to the bus driver are just so typical for Dublin, yet few sites will put you in the know. Our writers give you a unique insight into Dublin life and you can benefit from their local knowledge.
Dublin has a mild climate which makes a visit at any time of the year a pleasure. Between May and September, long evenings and pleasant temperatures invite you to visit on of Dublin's many annual festivals and events. From the biggest St. Patrick's Day Parade outside New York to the cutting edge Dublin Film Festival and the popular Dublin Marathon – Dublin has a full calendar of annual events.
See the city at its best in our exclusive Dublin photos. We have images of Dublin that show Dublin landmarks, tourist attractions and street scenes to give you a flavour of the city. All Dublin images are taken by our local photographers who know their way around Dublin streets. Our Dublin images are free to use and a great way to update your blog or website.
If you want to immerse yourself deeper into Ireland, Irish culture and Dublin life, we offer an introduction to Irish history, information on studying at Dublin's renowned universities and colleges as well as an overview of the public facilities offered by Dublin City council. Find out here how to get around Dublin by car, taxi, public transport or on a bicycle. Other practical travel information on our site includes the addresses of the main embassies in Dublin.
See you soon in Dublin, Slán Abhaile!