Science Gallery, Dublin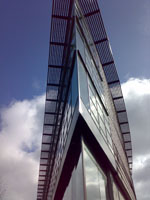 Dublin's newest visitor attraction is the Science Gallery, which opened its doors in February 2008. The gallery offers two floors of interactive exhibitions with changing focus on different areas of science.
Exhibitions typically feature hands on visitor participation and are great fun for kids and adults alike. The Science Gallery makes good use of its extensive floor space, offering many large, walk-through installations which let scientific subjects come to live in a new way.
Science Gallery History
The Science Gallery is the creation of Professor Mike Coey of Trinity College. Coey and his colleagues at Trinity's Centre for Research on Adaptive Nanostructures and Nanodevices (CRANN) launched the gallery on two floors of the Naughton Institute on the edges of Trinity's city centre campus. The exhibition and events programme is the responsibility of CRANN's Dr Diarmuid O'Brien.
Initially, Trinity College expected to attract 50,000 visitors to its newest public attraction in the first year. The Science Gallery proved more popular than expected, with some 120,000 curious sightseers visiting exhibitions on high tech clothing, robots, neuro science and light art.
Science Gallery Events
Upcoming events for 2009 include exhibitions on infections and strategies of containment, the world of extremely small, nanoscale phenomena and a look behind the scenes of virtual worlds based on a virtual model of Dublin.
From April to July 2009, the Science Gallery will show an exhibition and run a series of events under the title Infections. The exhibition will feature epidemic simulations, virus sculptures and more. But it will not all be about gore and grime, as the Science Gallery promises to look at day-to-day phenomena which are based on the theory of infections, such as viral marketing.
Opening Times And Prices
The Science Gallery is open to the public from Tuesday to Sunday. Opening times differ, pending exhibitions. Admission to the Science Gallery is free. Certain events, such as conferences, talks, workshops, movie screenings and others might carry a small charge. Members of the Science Gallery get special discounts on event tickets. You can become a member of the Science Gallery for free by signing up online.
How To Get To The Science Gallery
The Science Gallery is located on the Pearse Street side of the Trinity College campus and can be accessed directly from both the campus and Pearse Street. The most direct public transport link is the Dart, Dublin's light suburban railway line. The Dart stops at Pearse station, which is practically opposite the Naughton Institute building in which the Science Gallery is located. The 128 bus goes from the Connolly stop on the Red Luas line to Nassau Street, a five minute walk away from the Science Gallery. The 92 bus brings you from Heuston station to Trinity College. If you are starting off from the Grafton Street shopping area, Trinity College is less than 10 minutes walk away and it will take you 10 minutes to traverse the campus.
Homepage: www.sciencegallery.ie