Rathmines Dublin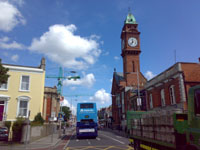 Similar to Ballsbridge, Rathmines started as an elegant residential town for wealthy Dubliners who fled the cramped streets of the city centre in the mid-19th century. Unlike Ballsbridge, the dream did not last. The once grand townhouses had fallen into a sad state of repair and were split into hundreds of tiny flats in the 1960s and 70s, earning Rathmines the nickname 'Flatland'. The cheap flats brought students and immigrants from all corners of the world and the new, slightly bohemian atmosphere is beginning to attract new interest in the area. Situated just South of the Grand Canal and rubbing shoulders with posher Donnybrook to the East, Rathmines with its predominantly Victorian red brick housing stock full of character is worth a short detour.

Rathmines History
Before the bourgeois exodus from Dublin in the 19th century, Rathmines was a sparsely inhabited, rural hinterland, part of the Barony of Uppercross to the South of Dublin. Oliver Cromwell's troops came here to fight it out with the Royalist forces in Ireland at the Battle of Rathmines on the 2nd of August 1649. Some 5,000 men died that day and the battle effectively put Cromwell in charge of Ireland. Ratmines heyday began in 1847, when it became a town by Act of Parliament. Rathmines prospered and in its glory days acquired a copper dome originally destined for St Petersburg to crown its flagship church, Mary Immaculate, Refuge of Sinners in 1922. The township did not even last 100 years and Rathmines was integrated into the City of Dublin in 1930. The descent into 'Flatland' followed suit and despite pockets of gentrification, Rathmines is still a bit grubby around the edges.
Rathmines Today
Small shops and fast food outlets dominate Rathmines' main thoroughfares. You get the usual range of chain stores, but also a number of unique, one-off shops you won't find anywhere else. From old fashioned delicatessen like Fothergills and Lawlors to Asian and Middle Eastern stores and chic modern shops like Field & Vine, Rathmines has preserved a bit of character. For a glimpse of Rathmines' former glory, visit the Mary Immaculate church and the Rathmines Library on the main drag, Lower Rathmines Road.
Rathmines Nightlife
Chinese, Japanese, Thai and Indian restaurants vie for attention on Rathmines main street. There is also a trendy burger joint, Jo Burger, on Rathmines Road and the small, bistro-like Wild Lily. Rathmines has a good number of pubs which get particularly busy after office hours. Slattery's and Mother Reilly's are old fashioned Dublin pubs while Toast and the Madison Bar aim for a more urban, modern look.
How To Get To Rathmines
The Beechwood stop on the Green Luas line is the nearest stop for most amenities in Rathmines. Bus routes 14, 14A, 15, 15A and 83 connect Rathmines with the city centre.