National Botanic Gardens, Dublin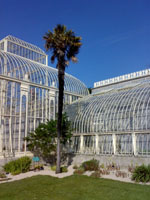 The National Botanic Gardens celebrate their bicentennial in 2009. The gardens were first opened in 1809, barely 50 years after Kew Gardens in London. Like Kew Gardens, Dublin boasts a number of spectacular Victorian glasshouses.
The Botanic Gardens Today
The Botanic Gardens contain 15,000 plant species from all around the world. The real pleasure you will derive from visiting the gardens is the feeling of immense calm and relaxation you take home after a stroll here. It's a small enough place for an easy walk. Generations of Dubliners have come out here for a 'constitutional', particularly after a roast beef or lamb lunch on Sundays.
On a sunny day, you can immerse yourself into the positively cheerful holiday atmosphere of couples and families strolling around the gardens.
If that sounds too wholesome, then check out the many sculptures which are generally dotted around the gardens or visit the palm house or the reassuringly down-to-earth vegetable gardens.
Refreshments At The Botanic Gardens

Please note that, despite the otherwise relaxed atmosphere, picnics are not exactly welcome here. But a cafeteria with a mouth-watering range of cream cakes and other treats invites those of you with a sweet tooth for a refuel stop after all that exertion of walking through the flowerbeds and rose gardens.
Opening Times And Prices
It's hard to believe, but entry to the Botanic Gardens is free! The gardens are open to the public all year round and only close on Christmas Day. The opening times are 9:00-18:00 from February to November and 9:00 to 16:30 during the rest of the year.
How To Get To The National Botanic Gardens
The National Botanic Gardens are located in the picturesque suburb of Glasnevin, roughly 3.5 km north of the city centre. Take bus 19 or 19a from O'Connell Street. The bus stops outside the main gate to the gardens.
Homepage: www.botanicgardens.ie