Malahide Dublin
Malahide is a seaside town that grew around a Norman castle some 16 kilometres North of Dublin city centre. Cotton mills, salt works and a sizeable harbour made Malahide prosperous. Today, its secluded plots, large houses and splendid sea views make Malahide a favourite with well-to-do Dubliners looking for an alternative to Dalkey or Killiney in South County Dublin. Malahide is also very convenient for Dublin airport, which increases its attraction on the Irish jet set considerably. It is an easy day trip out from Dublin's city centre and you can while away the day on the grounds of Malahide Castle and a promenade along the seafront.
Malahide History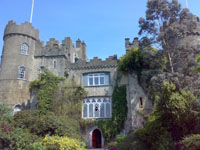 The Vikings came first and used to anchor their long ships in the sheltered estuary in between raiding expeditions along the Irish coast. The Normans came next and staid for good. The name Malahide or Mullach Íde in Irish is thought to date back to the 12th century and can be translated as 'Sandhills of the Hydes', a Norman family from the area. The ruling Norman family in Malahide where the Talbots and Sir Richard Talbot became the first Lord of Malahide around 1180. The Talbots built Malahide Castle which still stands today, if much refurbished over the centuries. Malahide was a thriving industrial town by the 18th century with silk and cotton mills and important salt works extracting the white gold from the Irish Sea. The railway arrived in the mid-1800s and brought wealthy Dubliners looking for more spacious living quarters.
Malahide today
In the last ten years, Malahide has become the des-res address in North County Dublin. Pop star Ronan Keating and chick lit author Cecelia Ahern live in Malahide. Actor Stephen Rea, U2 drummer Larry Mullen and U2 guitarist The Edge own properties in the Marina Village. Malahide is a pleasant little town and you can reach Malahide Castle and a selection of pubs and cafes within easy walking distance from the train station. A 20 minutes' walk along the coast towards Portmarnock brings you to some nice sandy beaches.
Malahide Castle
Malahide Castle was founded by Sir Richard Talbot, Lord of Malahide, in 1185. The Talbot family lived here until the last heir of the dynasty, Milo Talbot, died in 1973. The castle and its grounds were sold to the County Council in 1975 to cover the Talbot family's debts. The grounds stretch over a massive 109 hectares and include an 18th-century landscaped park as well as a cricket pitch, football pitches, a nine-hole par-three golf course and several tennis courts. Malahide Castle is open all year round and admission is free. The castle grounds regularly host open air concerts and festivals during the summer. Recent events at Malahide Castle included live gigs by Radiohead and Neil Young and the Lovebox dance music and indie festival.
Malahide Marina

Malahide Marina has 350 fully serviced berths and can accommodate vessels up to 75 metres and 4 metres draught alongside. There is good room to manoeuvre in and out of the Marina and the Malahide Estuary is pretty sheltered. The Marina charges a flat rate of €12.00 per boat for short stays up to five hours. Regular daily rates start from €3.90 per metre and monthly berth rates from €61.00 per metre, excluding electricity and waste. There is a restaurant and a ship's chandlers shop on the premises. Other facilities include a moveable barbecue dock, satellite TV and 24-hour security.
www.malahidemarina.net
Malahide Golf Club
One of the oldest golf clubs in Ireland, Malahide Golf Club was founded in 1892. The 27-hole, Par 71 course is located between Malahide and Portmarnock and was originally designed in a parkland style by Eddie Hackett. In 2007 the Blue Nine was redeveloped by Jeff Howes. Green fees on weekdays start from as little as 20.00 if you go with a member or 60.00 for guests.
www.malahidegolfclub.ie
How To Get To Malahide
Malahide lies on the main Dublin-Belfast railway line and many commuter trains to Dundalk or Belfast stop here. The station is also served by the DART local railway. Bus route 42 connects Malahide with Dublin's city centre.