Hugh Lane Gallery, Dublin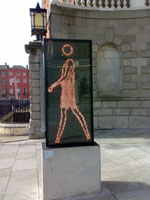 Contrasting the old with the new, the Hugh Lane Gallery shows works by contemporary Irish and international artists next to Impressionist masterworks and other 19th century art. The original collection, donated by the Gallery's founder Sir Hugh Lane, is constantly updated.
History Of The Gallery
The Hugh Lane Gallery can claim to be the first public museum of modern art in the world! Irish-born art dealer Sir Hugh Lane found fame and fortune in London in the 19th century. Fascinated by the Irish art scene at the beginning of the 20th century, Sir Hugh founded the Municipal Gallery Of Modern Art in Dublin in 1908.
The original gallery was located off St Stephens Green in Harcourt Street and has since been re-named and moved to Charlemont House, the opulent Georgian town house of the Earl Of Charlemont on Parnell Square at the top of O'Connell Street.
The Hugh Lane Gallery's Collection
The gallery has expanded Sir Hugh's collection considerably over the years and currently owns some 2,000 outstanding works of art. The collection focuses predominantly on 19th century paintings and sculpture and contains Impressionist masterpieces by artists including Manet, Monet, Renoir and Degas.
A busy schedule of exhibitions by contemporary artists introduces more radical takes on art. Don't be surprised to walk through the old fashioned rooms to suddenly stumble across a cluster of multimedia installations.
Contrasts are what makes the Hugh Lane Gallery so enjoyable.
Francis Bacon's Studio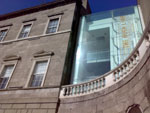 His huge canvases of decomposing faces and contorted bodies made Francis Bacon on of Dublin's most famous sons. Born in Dublin's Baggot Street in 1909, Bacon moved to London in 1929 and saw his star - and prices for his paintings - rising in the late 1940's.
After Bacon's death in 1992, the Hugh Lane Gallery bought the entire contents of the artist's South Kensington studio - From piles of old newspapers to unfinished paintings. The lovingly reconstructed studio is now encased in plexiglass and offers a fascinating glimpse into Bacon's grungy and chaotic world. Bacon's studio at the Hugh Lane is a must for fans of 20th century art.
Opening Times And Prices
The Hugh Lane Gallery is open Tuesdays to Thursdays from 10:00-18:00, Fridays and Saturdays from 10:00-17:00 and on Sundays from 11:00-17:00. The gallery is closed on Mondays. The Hugh Lane Gallery is funded by the City of Dublin and entry is free of charge. Some guest exhibitions and events may carry a small charge.
How To Get To The Hugh Lane Gallery
Located on Parnell Square at the Northern end of O'Connell Street, tucked away behind the Rotunda Hospital, the Hugh Lane Gallery is only a short walk away from many bus routes. The 3,7,10,11,13,16, 19, 46A and 123 all stop within a five minutes' walk of the gallery.
The Hugh Lane Gallery Address
Charlemont House
Parnell Square (North)
Dublin 1, Ireland
Homepage: www.hughlane.ie