Grafton Street Dublin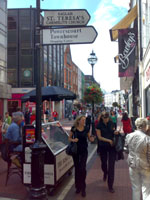 Grafton Street is a pedestrian shopping street which runs North-to-South from Trinity College to St. Stephen's Green park. It still has the cache of being Dublin's premier shopping street and manages to preserve a special atmosphere despite a rising number of the usual High Street brands and mobile phone shops. Grafton Street looks its best on a sunny Summer's day when Dubliners come out for a stroll or at Christmas, when the whole street sparkles with seasonal lights. There is a lot of interesting boutiques and specialist shops in the little side streets off Grafton Street which are well worth exploring. Below we list some of the most popular Grafton Street haunts.
Bewleys Café
Pop into good old Bewleys Café to escape the city for a while. Despite several attempts at modernisation, Bewleys is still quaintly old-fashioned and serves unpretentious fare for lunch and tea. Bacon rashers, sausages, beans and a variety of sticky buns washed down by gallons of tea or Bewleys own famous coffee. Well, it used to be famous as the only decent coffee in town before the proliferation of proper Italian espresso machines. Things have moved on since but Bewleys still soldiers on in a vaguely reassuring way. There is an intimate theatre upstairs that regularly stages lunch time plays. Your ticket will typically include a bowl of soup and a roll and you can munch away while watching a bit of culture. Check the posters in the café for details of upcoming shows.
http://bewleys.com/grafton-street
Brown Thomas
Brown Thomas is Dublin's leading department store for designer goods. Women's and men's fashions and accessories make up the bulk of wares on offer. You will find all international top labels here under one roof. Gucci, Prada, Louis Vuitton – You name it, Brown Thomas most likely has it. There is also an extensive cosmetics and homewares selection. The store, known to Dubliners simply as 'BTs', offers some amazing discounts during its annual Summer and Winter sales.
www.brownthomas.com
BT2
BT2 is the 'young' brand of Brown Thomas. It's basically a whole department store given over to young streetwear with a smaller kids clothes selection and a restaurant on the top floor. BT2 has an altogether brasher, more quirky atmosphere than its staid parent.
www.bt2.ie
A-Wear
A-Wear has been a Grafton Street fashion institution since the 1970's. Famous Irish designer John Rocha helped to shape the look of A-Wear's own fashion line for women and men. The store used to be part of the Brown Thomas group but has been going it alone since 2007. These days, A-Wear aims somewhere between BT and BT2 in style and age group.
Powerscourt Townhouse
Strictly speaking, the Powerscourt Townhouse is not on Grafton Street. In fact, it lies between Clarendon Street and South William Street which run parallel to Grafton Street. But don't let that put you off, because Powerscourt is the spiritual extension of the Grafton Street experience only crammed into a gorgeous 18th century mansion. Some 42 boutiques and shops fill the place and there is a café in the atrium. Coming from the Trinity end of Grafton Street, just turn into narrow Johnson Court halfway down the street on your right hand side. It's a two minute's walk to the Clarendon Street entrance of the Powerscourt .