Dublinia and the Viking World
Dublinia shows you firsthand what it was like to live in Dublin at the time of the Vikings and in the middle ages up to the beginning 16th century. It is a highly interactive museum full of atmospheric 3-d displays and with many hands on activities for visitors.
Dublinia In Action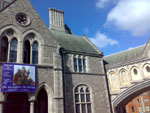 Stroll through a medieval market and visit a rich merchant's house. You can wear medieval clothes, throw rotten eggs and veg (well, soft plastic balls) at a criminal locked up in the pillories and try your luck at fun fair games. Or why not try on some medieval armour and find out what weight the knights actually had to carry around with them?
Don't be shy. It's great fun for kids and adults with a sense of humour. All exhibits come with plain-English explanations that give you a taste for the time even if history is not usually your thing.
The Viking World
After you survived the Middle Ages, delve deeper and experience life in the times of the Vikings. See for yourself how much space you had as a crew member on a Viking long ship, learn to write in Viking Runes and listen to long Sagas recited by an elder while you are sitting around the camp fire. Again, it's an absolute blast for children and open minded adults.
St Michael's Tower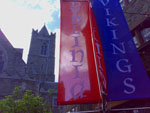 This 17th century cut stone tower offers great views over Dublin and the River Liffey from its top platform. There are signs pointing out the major landmarks you can see from here, weather permitting. The interior of the tower is quite impressive, with just a metal staircase snaking its way up and the lack of floors giving you full view of the majestic height of the structure. It's a steep climb of 96 steps to get to the viewing platform. You don't want to be suffering from vertigo here and high heels are not the best choice of footwear for the climb.
The History Of Dublinia
Dublinia is located in a 19th century neo-Gothic building that housed the Synod Hall of the Church Of Ireland until 1983. The building was erected on the site of an older, 17th century church of which only the bell tower survived. The tower is now part of the Dublinia museum. The building is connected with historic Christchurch Cathedral on the opposite side of St Michael's Hill via an enclosed pedestrian bridge. The museum opened its doors in 1993 and added its permanent exhibition The Viking World in 2005.
Opening Times
Dublinia is open daily March to September: 10am - 6.30pm (last entry 5.30pm) and from October to February 10am -5.30pm (last entry 4.30pm).
Prices
Tickets cost €8.50 for adults and €5.50 for children. There are further discounts available for families, students and senior citizens.
How To Get To Dublinia
Dublinia is located on St Michael's Hill, opposite Christchurch Cathedral. The 123 bus from O'Connell Street or Dame Street stops on High Street in view of the Dublinia building. Just walk back 100 metres on High Street and turn left, walking down St Michael's Hill towards the River Liffey. The entrance to Dublinia is to your left.
Homepage: www.dublinia.ie