Casino Marino, Dublin
Imagine a classical looking building where nothing is what it seems. Casino Marino is a lovingly restored 18th century pleasure house full of optical illusions.
The Casino's Secrets
Walking up to the Casino you first notice that you can't look into the windows. From whatever angle you look at them, the windows remain black. That's because each individual pane is skilfully bevelled to deflect the light. The massive columns are hollow and serve as gutters and the decorative urns on the roof are actually chimneypots.
Step inside and you will find that what looks like a small garden pavilion actually hides 16 rooms on three floors, including kitchens and servants quarters, a library, several reception rooms and bedrooms.
The History Of The Casino
The Casino is a masterpiece of Palladian architecture in Europe, possibly one of the finest outside Italy. Inspired by the Roman temples and the Palladian villas he saw on his tour of Italy, James Caulfeild, the first Earl of Charlemont, instructed architect Sir William Chambers to draw up the plans for a Casino, or 'little house' in Italian.
The 'little house' was never inhabited; it served as an impressive folly to entertain the Earl's friends. Servants would bring up food supplies and wine from the Earl's main house through a tunnel, completely out of view of the guests.
Being the Earl's guest at the Casino was not without dangers in the 1700s. The house was located fairly isolated on pastures roamed by highwaymen and the Earl Charlemont kept armed bodyguards on the premises to fend off unwanted gate crashers.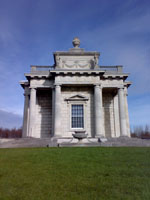 It is a truly fascinating trip to a Dublin long gone, barely a 20 minutes bus ride north from the centre of town. Take the guided tour to see the inside of the Casino and listen to the colourful tales of the guides.
Prices And Opening Times
The Casino can be accessed from April to September between 10:00 and 18:00. You can walk around the grounds for free but to get inside the building you need to join a guided tour. Tours take approximately one hour and cost €3.00 for adults and €1.00 for children. Maybe it's because of the unusual nature of the building, maybe it's because the Casino is off the beaten track, but the guides here are some of the most knowledgeable and enthusiastic in all of Dublin's many public attractions.
How To Get To The Casino Marino
The Casino is located on the Northside in the suburb of Marino, just off the Malahide Road, close to the junction with Griffith Avenue. Take the Dart to Clontarf station and walk up Malahide Road or take the 123 bus from O'Connell Street to the end of Griffith Avenue, turn left and walk up the short hill. Other bus routes convenient for the Casino Marino are 20A, 20B, 27A, 42 and the 42C.