Blackrock on Dublin's Southside is a town of curious contrasts. The seaside town overlooks Dublin Bay, but the view is marred by unsightly railway tracks. Blackrock boasts desirable residential areas, a posh boys' school and the country's best known private hospital, yet the town centre is tired looking and somewhat run down. Fortunately, Blackrock has a bohemian touch which injects fresh live into the town. Blackrock's bohemian side comes to the fore in its large number of small art galleries and a weekend market which attracts shoppers from all over Dublin.
History Of Blackrock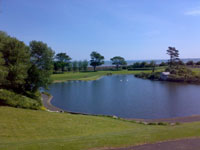 Blackrock was named after a prominent rock structure which was visible on the coastline before it was buried under Blackrock Park in the 19th century. Blackrock's golden age started in the 17th century when Anglo-Irish aristocracy began to build a number of stately homes in the area, overlooking Dublin Bay and wealthy Dubliners followed, turning the small coastal village into a popular seaside resort in the 18th century. You can still see the once impressive Georgian terraces on Carysfort Avenue and, to a lesser extent, on Newtown Avenue. Blackrock's fortunes changed dramatically in the 1830s, when a new railway line cut the village off from the seaside proper. The once magnificent sea views were spoiled and rich Dubliners rattled past Blackrock on the very same train tracks that marred Blackrock's scenery towards new hotspots further down the coast, like Dun Laoghaire and Bray. Blackrock turned a bit bohemian in later years attracting writers such as James Joyce, who lived briefly on Carysfort and Flann O' Brien, who lived on Avoca Terrace.
Shopping In Blackrock
Blackrock is one of the main shopping destinations on Dublin's Southside. The area features two shopping centres, the Frascati Centre and the Blackrock Shopping Centre both facing each other on opposite sides of Frascati Road. The village centre harbours many independent art galleries and one-off shops, such as Dublin's only dedicated shop for HiFi audio equipment, Cloney Audio. At the end of Main Street, you find Blackrock Market, Dublin's funkiest indoor market.
Blackrock Market
Blackrock Market is Dublin's largest covered weekend market. It combines the atmosphere of a flea market full of antique and not so antique bric-a-brac with stylish, funky boutiques and mouth-watering delicatessen counters. Other goodies include second-hand books and vinyl records, handmade jewellery and vintage clothes. Established in 1996, Blackrock Market now features more than 50 different stalls and shops. The market is open Saturdays from 11:00 to 17:30 and on Sundays and Bank Holiday Mondays from 12:00 to 17:30.
Blackrock Park
Blackrock Park was built by the city fathers in 1873 to win back some of the Dublin holiday makers who had deserted Blackrock after the arrival of the railway. Constructed on unsightly swampland that was left after work on the railway tracks was completed, the park is a classic Victorian affair with a bandstand and gently undulating paths inviting you for a promenade by the seaside. Ironically, the rocks that once gave Blackrock its name disappeared under the new park. Until a few years ago, the park was neglected and attracted a very mixed clientele, with junkies and all sorts of shady characters turning it into a bit of a no-go zone. More recently, Blackrock Park has been largely cleaned up and now hosts a number of family oriented events and festivals in the summer, such as an annual Teddy Bears' Picnic.
Blackrock College
Outside Ballsbridge, the main bastion of Dublin rugby is the boys school Blackrock College on Rock Road, the main coastal road into Blackrock. The school has won the Leinster Schools Senior Cup a whopping 65 times in the cup's 120-year history. Some of the former pupils who swaggered across Blackrock College's expansive campus are Irish International Rugby Team captain Brian O'Driscoll, former rock star Bob Geldof and comedians Des Bishop and Ardal O'Hanlon.
Blackrock Clinic
Blackrock Clinic, located next door to Blackrock College, is Dublin's best known private hospital. Founded in 1985, the clinic offers the services of more than 100 consultants who are available to outpatients and hospitalised patients alike. The clinic specialises in cardiology but offers a wide range of services including laser eye treatment, oncology day care and more.
Eating Out In Blackrock
Eateries and pubs in Blackrock are concentrated around Blackrock village on Main Street. Jack O'Rourke's and O'Donohoes are traditional Irish pubs. O'Rourkes is going back to the days of James Joyce, who was supposed to have been a regular. The Wicked Wolf and Tonic are more contemporary styled and attract a younger audience. Of the two, the Wicked Wolf is loud and lively and Tonic more loungey. The Avoca Bar at the bottom of Carysfort Avenue is a good alternative, particularly when the sun is out and you can sit on the terrace in front of the bar and watch the world go by. There are many small cafes, sandwich shops and mainly Italian restaurants on Main Street. Despite its status as a desirable residential area, Blackrock sadly lacks a distinctive restaurant of its own. Try the pub food at the Avoca Bar or head to the neighbouring villages of Monkstown (FXB, Taste, Siam Thai) or Sandycove (Cavistons) for more choice.
Getting To Blackrock
Blackrock is serviced by the DART local railway service. The main DART stop is Blackrock for the village and Blackrock Park. The Seapoint DART station is convenient for Southern parts of Blackrock and neighbouring Monkstown. Bus Routes 114, 115, 17, 45, 46E, 7, 7A, 7N and 8 connect Blackrock with the city centre.